Hey Everybody!!!
I wanted to introduce you to

Andrew Westoll

. I know lots of you that support great apes already know who Andrew is but for those of you who don't I will tell you. I met Andrew through twitter when I first got started speaking out for chimps. He was one of the first people that I followed and on the list of people I hope to meet one day.
Andrew is a primatologist and a writer. He has done some really cool stuff, like spending a year in the Central Suriname Nature Reserve following capuchin monkeys. Who wouldn't love following monkeys through a rainforest? He also was able to live by, watch and get to know 13 chimpanzees that had lived for decades in a biomedical lab. These chimps are at

Fauna Sanctuary

which is outside of Montreal, Quebec

.
I am really excited about Andrew's new book "The Chimps of Fauna Sanctuary". I have been waiting for it to come out. My mom ordered it for me so it should be here soon. Andrew has written about all the chimps he has gotten to know at Fauna. I know this is going to be a great book and when you order it a portion of the proceeds goes to help the chimpanzees at Fauna.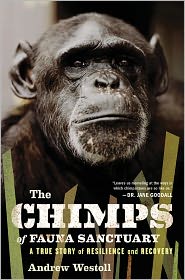 "Andrew Westoll is a born story teller: The Chimps of Fauna Sanctuary, written with empathy and skill, tenderness and humour, involves us in a world few understand. And leaves us marvelling at the ways in which chimpanzees are so like us, deserve our help and are entitled to our respect." - Dr. Jane Goodall
If you are interested in ordering this book just click on the book on the top right of this page and w

hile you wait for your book to come read Andrew's blog "

The New Animalist

". Here

you will learn

more about the writer and the

primatologist, Andrew Westroll. Also you can follow Andrew on

facebook

&

twitter

.
My Time with the Chimps: An Introduction

In the summer of 2009, I spent ten weeks living and working at the

Fauna Foundation

, a sanctuary for abused and neglected animals just outside Montreal, Canada. Fauna is home to over one hundred animals of all shapes and sizes, but its most famous residents are a very special family of chimpanzees.

Fourteen years ago, these chimps were rescued from a biomedical laboratory. In the lab, they'd spent decades suffering through countless invasive surgeries like punch- and open-liver biopsies, dart-gun knockdowns and day after day of barren captivity. They'd been used as test subjects in vaccine trials, and injected with lethal human diseases such as hepatitis and HIV. Their lives had been utterly miserable and devoid of just about everything an ape requires to live a happy, dignified life. Some of them were driven psychotic by the experience.

But at Fauna, the chimps have begun to heal. And what's even more amazing it that they've begun to trust humans again. This is what my next book,

The Chimps of Fauna Sanctuary

, is all about. It's a biography of the chimps and the woman who saved them, Gloria Grow, who continues to look after them to this day.

When I moved in to Fauna in 2009, thirteen troubled chimpanzees were living there. To honour that magic number, I'm going to post thirteen memories of my time with the chimps right here on The New Animalist, and on the

Walrus Blog

, as well. Posts will appear about once a week, as a countdown of sorts to publication. Come May, when the book will be in stores across North America, you should all feel a little closer to Fauna and the remarkable apes who live there.

Each post will be named after an individual chimp. So without further ado, I'd like to introduce you to the mighty

Jethro

….

THANKS FOR COMING BY AND VISITING MY BLOG & PLEASE SHARE THIS WITH YOUR FRIENDS SO THAT THEY CAN ORDER ANDREW'S NEW BOOK TOO!!!

Your Chimp Friend Brandon